(Mission, Texas)-The Weslaco Panthers played the clock down to the last second on every offensive play as they defeated Laredo United South Panthers 13-6 today at Patriots Field-Mission Veterans Memorial High School to advance to the Texas State 7-on-7 Football Championships to be played at College Station June 22-24th in the Snake Pit Classic hosted by High School Sports Magazine and T-9 Sports. Longtime TASO Official Tony Guerrero is the RGV Director for the Texas State 7-on-7 State Qualifiers. Twenty-Four teams made the trip to Tom Landry Stadium, Patriots Field, and Kenneth White Middle school with hopes of qualifying for three spots for a trip to College Station. Two other Rio Grande Valley teams, PSJA North and PSJA HS also filled those final spots, along with Weslaco.

In Bracket A, the PSJA North Raiders defeated Harlingen (41-7), Sharyland (25-14), and Laredo United (27-14) to earn a berth in the Bracket A Qualifying game against McAllen Nikki Rowe HS. The Raiders wasted no time to beat the Warriors 20-14 as the Raiders returns to the state tournament in back-to-back seasons.
In Bracket B Pool I, the Weslaco Panthers defeated La Joya Palmview 20-13, Brownsville Lopez 24-0, and Mission Veterans 35-7, and they went on to eliminate the Laredo United South Panthers in the qualifying game, winning 13-6 to advance.
In Bracket Pool C, the PSJA Bears defeated San Benito 35-13 in the finals to take the final qualifying spot to advance to the state tournament. The Bears posted pool wins over Sharyland Pioneer 27-26, La Joya 34-0, and Laredo LBJ.
The Texas State 7-on-7 Football Championships-SQT Qualifiers continue next Saturday at Bobby Lackey Stadium in Weslaco with 16 teams looking for two final spots to advance to the the state tournament. (HSSMIMages/Ruiz)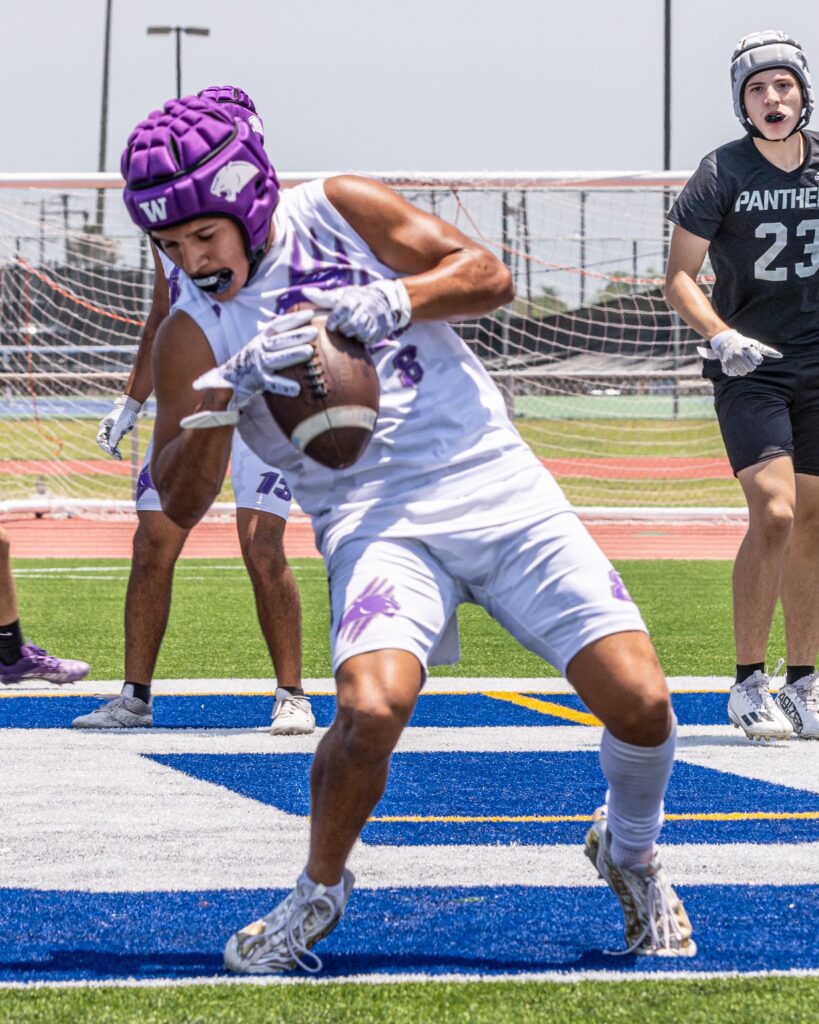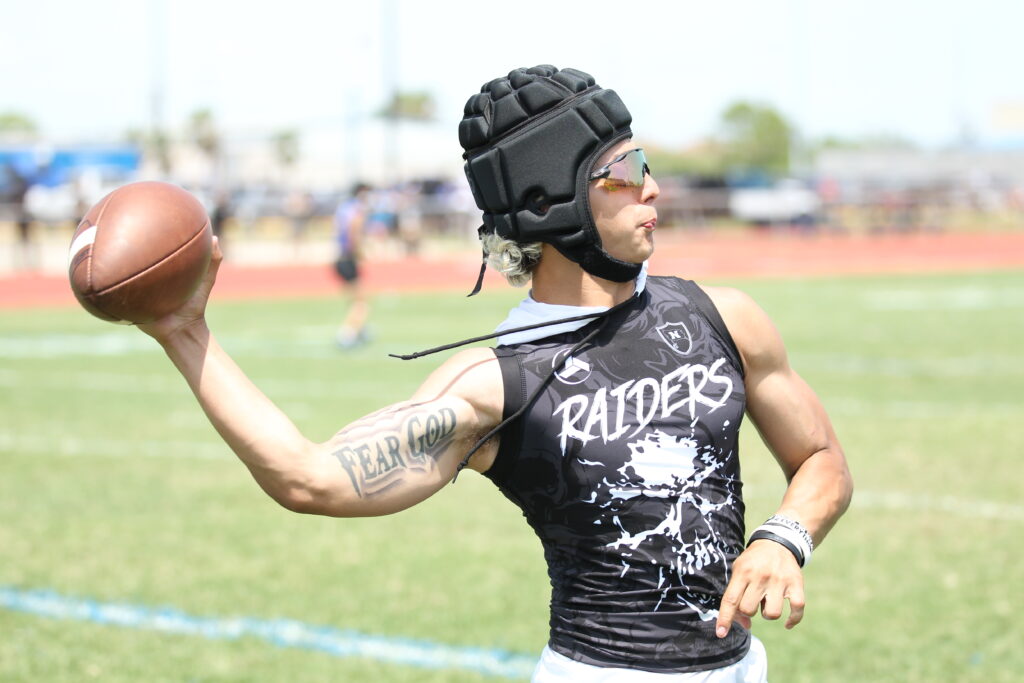 HSSM Final Scores…
Bracket A Pool 1
McAllen Rowe 20, Mission High 6
PSJA Memorial 27, Weslaco East 26
Mission High 27, Weslaco East 0
McAllen Rowe 21, PSJA Memorial 13
Weslaco East 32, McAllen Rowe 26
Mission High 26, PSJA Memorial 0
Bracket A Pool 2
PSJA North 41, Harlingen High 7
Sharyland High 29, Laredo United 28
PSJA North 25, Sharyland High 14
Harlingen High 28, Laredo United 26
Harlingen High 14, Sharyland High 8
PSJA North 27, Laredo United 12
Bracket A Qualifying Game
PSJA North 20, McAllen Rowe 14
Mission Veterans High School
Bracket B Pool 1
Mission Veterans 35, Brownsville Lopez 28
Weslaco High 20, La Joya Palmview 13
Mission Veterans 34, La Joya Palmview 19
Weslaco High 24, Brownsville Lopez 0
La Joya Palmview 20, Brownsville Lopez 20
Weslaco High 35, Mission Veterans 7
Bracket B Pool 2
Laredo United South 13, Mercedes 7
Edinburg North 27, McAllen Memorial 12
Mercedes 20, McAllen Memorial 7
Laredo United South 26, Edinburg North 6
Laredo United South 19, McAllen Memorial 6
Mercedes 26, Edinburg North 25
Bracket B Qualifying Game
Weslaco High 13, Laredo United South 6
At Kenneth White Middle School
Bracket C Pool 1
PSJA High 27, Sharyland Pioneer 26
Laredo LBJ 19, La Joya High 12
Sharyland Pioneer 20, Laredo LBJ 6
PSJA High 34, La Joya High 0
PSJA High def. Laredo LBJ
Sharyland Pioneer 47, La Joya High 7
Bracket C Pool 2
Laredo Alexander 34, Brownsville Porter 0
Edcouch-Elsa 21, San Benito 20
Laredo Alexander 26, Edcouch-Elsa 20
San Benito 47, Brownsville Porter 0
Edcouch-Elsa 34, Brownsville Porter 6
San Benito 27, Laredo Alexander 19
Bracket C Qualifying Game
PSJA High 35, San Benito 13