(Brownsville, Texas)-The 15-5A DI PSJA North Raiders (13-0) are headed to the University Interscholastic League State 5A DI Quarterfinals for the first time in school history after defeating 16-5A DI Brownsville Veterans (10-3) on Friday at Sams Stadium 35-15. With the win, the Raiders will play 14-5A DI Corpus Christi Veterans (11-2) on Saturday at 6:00 p.m. at Buccaneers Stadium in Corpus Christi, Texas.
"This is just amazing," says Raiders head coach, Marcus Kaufmann. "We played a very good Veterans team tonight and we stopped them."
The Raiders started the night with more than 7,000 fans packed at Sams Stadium with a safety to make it 2-0 in the first quarter. On the Chargers next possession, they would take a 7-2 lead but the Raiders responded with a score to make it 9-7 on a 20-yard run by Raiders quarterback Ale Aparicio. The Raiders would score again on a pass from Aparicio to TE Julius Arredondo to make it 15-7.

The Chargers watched their star running back Bryan Chavez break loose for a 65-yard run but, the Raiders ended the would-be-comeback when RB Jayden Fuentes punched it in from 40-yards to end the Chargers season.
The winner between PSJA North/CC Veterans will play Smithson Valley (12-1) or College Station (11-2) in the UIL State 5A DI Semifinals.

Only eight teams remain in the 5A DI Playoffs and here they are:
Region I
Centiennal (12-1) vs Aledo (11-2)

Region II
Longview (13-0) vs Mansfield Timberview (13-0)
Region III
Smithson Valley (12-1) vs College Station (11-2)
Region IV
CC Veterans (12-1) vs PSJA North (13-0)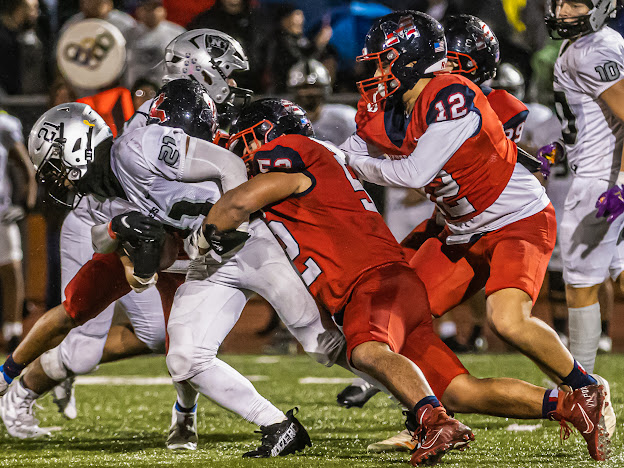 The Brownsville Veterans Chargers lost to PSJA North in the UIL State 5A DI Regional Championships on Friday night. (HSSMImages/Ruiz)