(Mission, Texas)-Edinburg Vela High School head baseball coach Jamie Perez went for his first colonoscopy exam in July 2022 and days later, he was headed to M.D. Anderson in Houston. He was diagnosed with the early stages of Stage-Four Colon Cancer. Today, he is now battling two games. The game of survival and the game of baseball. "I just want to finish this season. I want to be part of this game. I also want this battle of cancer to be won too. It has taken a toll on my family. My faith in God is my strength," says Perez.
On Thursday afternoon, No. 10 ranked Edinburg Vela's game with HSSM's No.2 ranked team, Sharyland (14-2, 6-0) in a key District 31-5A match-up, started late with TASO officials showing up late due to a miscommunication with game-scheduling. It was an emotional moment for Perez before the first pitch. He held back his tears after talking about the possibilities with his health condition. "I feel the tiredness from this," says Perez. "But, I love this game and that's why I'm here. What else can I do," added Perez.
The Sabercats jumped out to a 3-0 lead in the first inning and this gave Perez a smile that he was looking for on this day. A homer by Sharyland CF Diego Diaz in the bottom of the first inning made it 3-1 Vela. The second inning proved to be less unfortunate for the Sabercats as the Rattlers hit consecutive deep-hits to the outfield putting two runners on base. A few pitches later, a homer over the left-center field wall made it 5-3. The Sabercats fought back with two runs scored in the third inning to tied the game at 5-5, bringing back the smiles for Perez.
In the fourth inning, things just went sour for the Sabercats. A dropped ball in the outfield with two outs led to four runs being scored for the Rattlers. "Can you believe this," Perez said to one of his assistants. "A dropped ball." Sharyland's Diaz smacked a double to score to two more runs in the 6th inning to make it 13-6 over the Sabercats. "We will have more battles to fight this season," said Perez. The loss dropped the Sabercats (10-7, 4-2) into a fourth place tie with Valley View High School. Sabercats lost to the Rattlers 13-9.
In more games, District 30-5A is off to a 2-0 start with three teams picking up wins. La Joya Palmview defeated Rio Grande City 8-5 to improve to 13-5 this season while Mission Veterans also stayed perfect at 2-0 with their 10-2 win over La Joya Juarez-Lincoln (4-7-1) and Roma remained atop in the standings with a 12-3 win over Laredo Cigarroa.
Moving over to District 31-5A, Valley View High School, under first-year head coach, Felipe Barrera moves up to fourth place after defeating PSJA Southwest with an impressive 15-0 shutout while High School Sports Magazine's No.1 team, Sharyland Pioneer stopped PSJA North 6-1 to improve to 15-1-1 under first-year head baseball coach, Adrian Leal. The Diamondbacks will play at McAllen HS on Tuesday at 7:00 p.m.
And finally, the Weslaco East Wildcats picks up its 14th win of the season by defeating Brownsville Veterans 8-2 in District 32-5A. The win keeps the Wildcats (14-2) tied for first place with Harlingen South at 6-0. The Hawks (12-4) eliminated Brownsville Lopez in five innings.
(Pictured on the main cover is Edinburg Vela HS Jaime Perez being consoled by one of his assistants/HSSMIMages)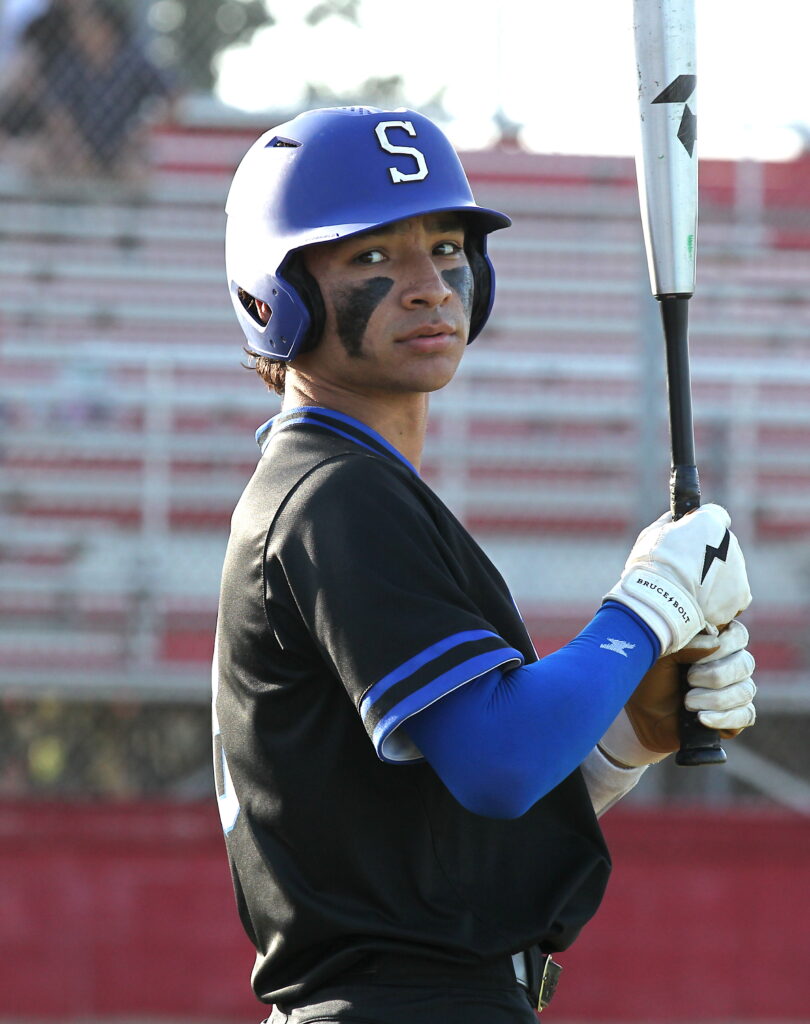 Here are Thursdays Baseball Scores-March 16th:
District 30-5A
Mission Veterans 10, La Joya Juarez-Lincoln 2
La Joya Palmview 8, Rio Grande City 5
Roma 12, Laredo Cigarroa 3
District 31-5A
Valley View 15, PSJA Southwest 0, 5 innings
McAllen High 10, McAllen Memorial 5
McAllen Rowe 9, PSJA Memorial 8
Sharyland High 13, Edinburg Vela 9
Sharyland Pioneer 6, PSJA North 1, 9 innings
District 32-5A
Donna North 9, Mercedes 8
Harlingen South 16, Brownsville Lopez 0, 5 innings
Brownsville Pace 8, Donna High 7
Edcouch-Elsa 3, Brownsville Porter 1
Weslaco East 8, Brownsville Veterans 2