McAllen Schools Stays Home, Two 6A Districts comprised of Six Teams…
(Harlingen, Texas)-It's always a big secret when the University Interscholastic League announces the new realignments and re-districting every two years. This morning, coaches from the Rio Grande Valley opened their packets with some relieved, while others had grim looks.
All three McAllen ISD schools will stay in the Rio Grande Valley while District 16-4A Division I will feature La Feria and Hidalgo with CC Calallen, Alice, CC Tuloso Midway, Kingsville, and Zapata.
Other teams moving in the UIL shuffle were…16-4A DII, "we will see what happens," says Frank Cantu, Raymondville HS head football coach, as he hoped to see Raymondville, Grulla, Port Isabel, Robstown, will stay South in one district. "We traveled a lot for the past two seasons and it's been challenging."
In a surprise move by the UIL, District 31-6A and 32-6A will feature six teams each.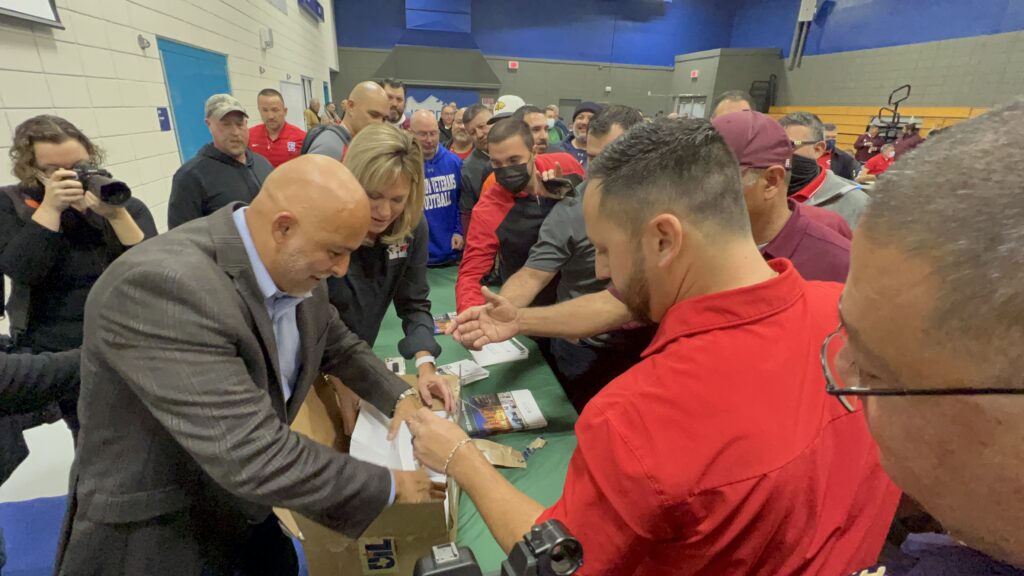 Here are the teams from the Rio Grande Valley in their newly announced districts.
District 32-6A
Harlingen
San Benito
Los Fresnos
Brownsville Rivera
Brownsville Hanna
Weslaco
District 31-6A
La Joya
Edinburg
Edinburg North
Edinburg Economedes
Mission
PSJA
District 16-5A DI
Weslaco East
Donna
Donna North
Harlingen South
Brownsville Lopez
Brownsville Pace
Brownsville Veterans
District 15-5A DI
McAllen
McAllen Memorial
McAllen Nikki Rowe
Edinburg Vela
La Joya Juarez Lincoln
La Joya Palmview
PSJA North
Rio Grande City
District 16-5A DII
Mission Veterans
PSJA Memorial
PSJA Southwest
Sharyland
Sharyland Pioneer
Roma
District 15-5A DII
Gregory Portland
CC Flour Bluff
Mercedes
Ed-Elsa
Valley View
Brownsville Porter
District 16-4A DII
Bishop
Port Isabel
Raymondville
Grulla-RGC
District 16-4A DI
Alice
CC Calallen
CC Tuloso Midway
Hidalgo
Kingsville
La Feria
Zapata
District 16-3A DI
Falfurrias
Lyford
Progreso
Rio Hondo
San Diego
Santa Gertrudis
District 16-3A DII
Banquete
George West
Hebbronville
Monte Alto
Odem
Santa Rosa
Taft
District 16-2DII
Lasara
Agua Dulce
Woodsboro
Benavides
Bruni
Pettus
District 16-2A DI
La Villa
Freer
Ben Bolt
Premont
Riviera
Santa Maria