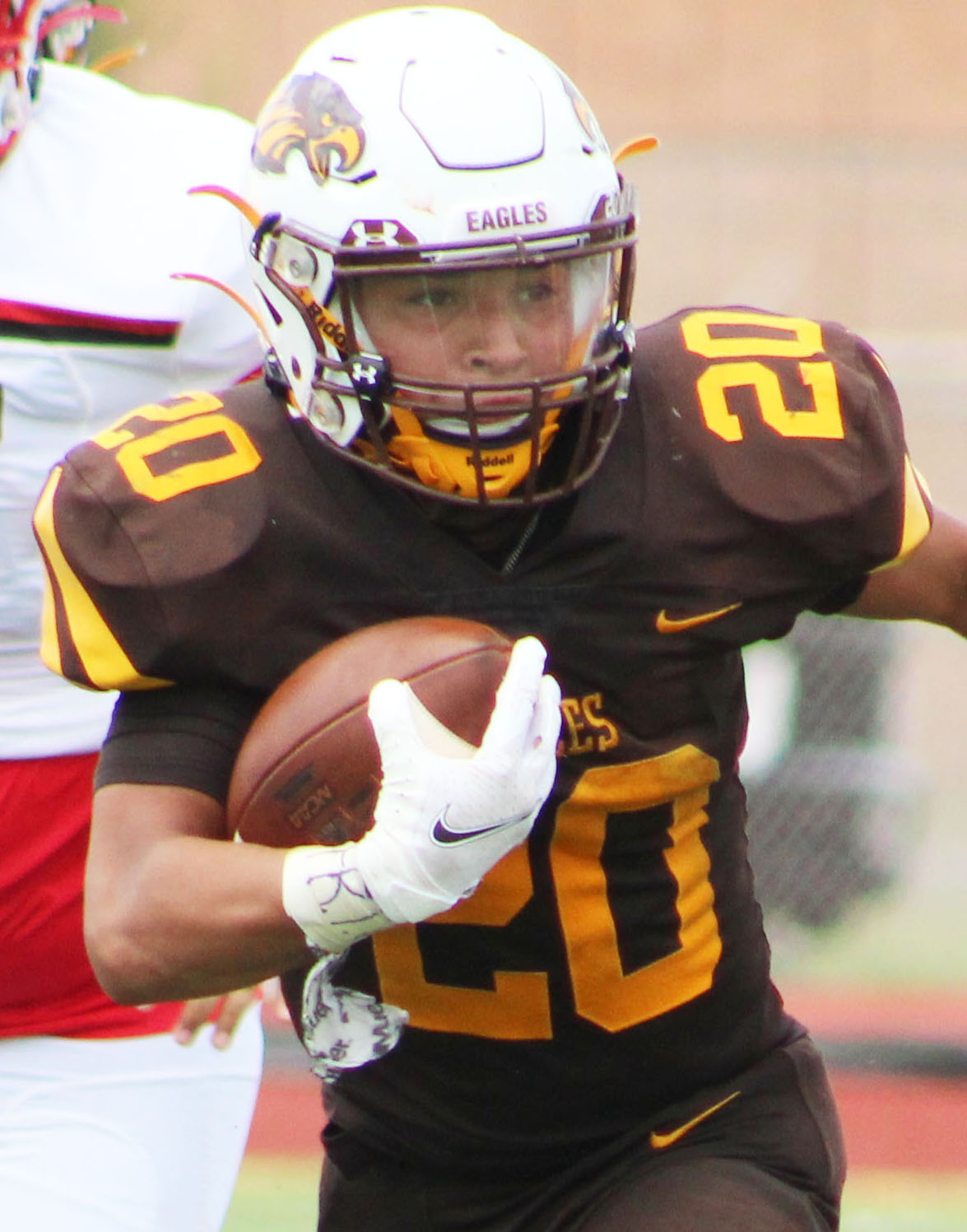 Week One
Gilbert Medina, RB Port Isabel HS, Five carries for 198 yards with 3TDs; He also had punt and kickoff returns for 150 total yards in win over Brownsville St. Joe 54-6
Ethan Jeradiah, RB Rio Hondo HS rushed for 208 yards on 17 carries and 4 TDs; He also had 46.0 average in punts in 65-0 win over LJ Juarez Lincoln.
Michael Cisneros QB Mercedes HS passed for 302 yards and five touchdowns in 42-14 win over Brownsville Hanna.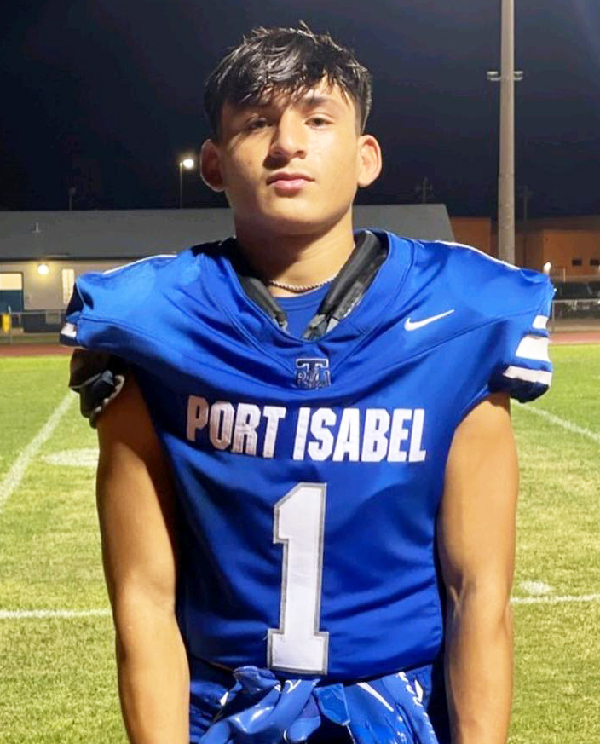 Week Two
Max Alaniz-Choy, RB McAllen Memorial HS 33 carries 322 yards rushing 2 Tds; 5-of-5 extra points made
in 35-28 win in overtime against McAllen HS in District 16-5A DI.
Kriz Pena, RB Brownsville Hanna HS 36 carries 353 yards rushing 3 TDs in 37-26 win over Sharyland in non-district action on Saturday.
Michael Cisneros, QB Mercedes HS passed for 279 yards, completing 13-of-19 with two TDs in 24-14 win over Edinburg North HS on Friday night. He also rushed for 114 yards on 15 carries and one TD.
Jayson Cantu, QB Raymondville HS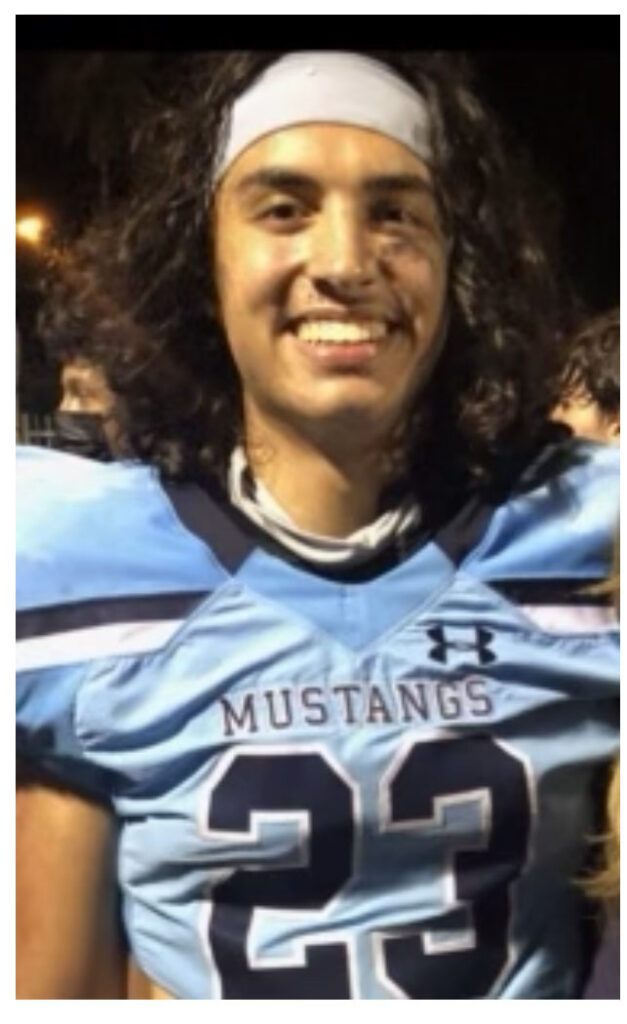 Week Three
Nathan Huerta, DE from Harlingen High School had 3 1/2 quarterback sacks in the 38-14 win over Laredo United. In three games, Huerta already has recorded 5 1/2 sacks.
Ted Galvan, RB from Edinburg Vela HS rushed for 168 yards, including two touchdown runs of 72 and 59 yards in their win over PSJA North 24-0 to remain unbeaten.
Alan Guerrero, FB for the Sharyland Rattlers (2-1, 1-0) rushed for 164 yards on 21 carries and one score in their 31-21 win over Edcouch-Elsa. He had a 41-yard catch.
Mateo Llanas, quarterback at McAllen Nikki Rowe HS ranks No.28 in Texas amongst passing leaders with 798 yards completing 52 of 75 attempts with 11 TDs.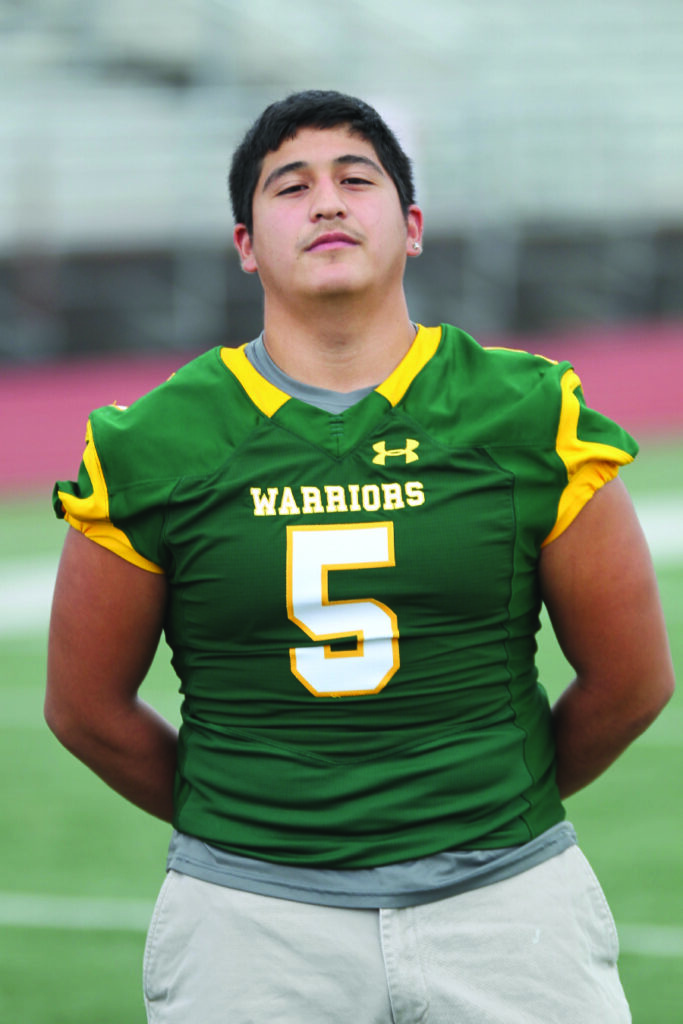 Week Four
High School Sports Magazine named quarterback Mateo Llanas as the HSSM Top Performer of the Week from McAllen Nikki Rowe High School. He passed for 445 yards and four touchdowns in their District 16-5A Division I win over Brownsville Pace last Thursday night. Mateo passed for over two hundred yards in the first quarter with three scores as the Warriors (3-1, 2-0) move into first place in 16-5A Division I. They will play McAllen Memorial (3-1, 2-0) this Friday. He leads the Rio Grande Valley in passing with 1,243 yards and 16 Tds.
More Top Performers
Edcouch-Elsa HS RB Josh Gomez 17 carries 305 yards 3 Tds; 2 catches for 41 yards as the Yellowjackets recorded its first win of the season over PSJA Southwest in District 16-5A DII.
Mission HS QB Kevin Guerra passes for 345 yards and 4 TDs with game winning touchdown rush in 28-24 win over Edinburg North in 31-6A. The Eagles are 3-1, 2-0 for the season.
Mercedes QB Michael Cisneros was nearly perfect as he completed 19-of-21 passes for 356 yards and five touchdowns in their win over Valley View in District 16-5A DII. He ranks No.2 in passing with 1,141 yards 14 TDs. The Tigers are undefeated (4-0, 2-0) and will host Roma this Friday.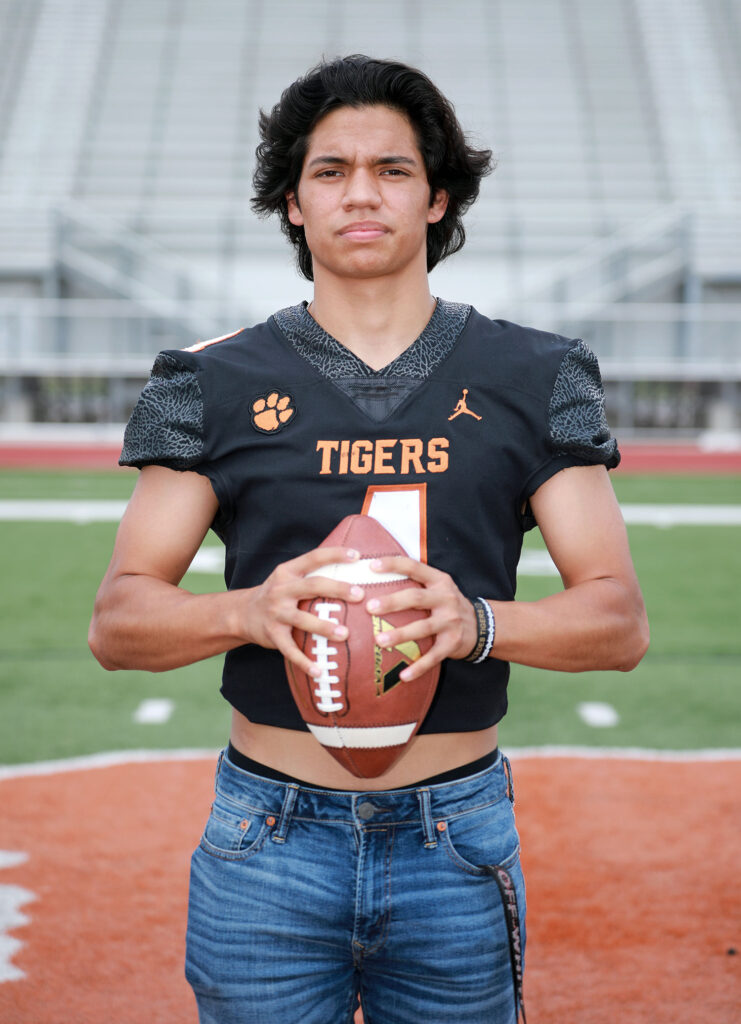 Week Five
High School Sports Magazine's Top Performer for Week Five is junior quarterback, JP Cortez from McAllen Memorial HS. The Mustang quarterback threw for two touchdown passes in the third and fourth quarters to defeat McAllen Nikki Rowe High School 16-6 in a key District 16-5A Division I game. He finished the night with 130 yards passing, including seven straight completed passes in the second half.
More Top Performers
Ricky Reyna from Mission Veterans Memorial HS (3-2, 3-0) threw for 316 yards and three touchdowns as they won their third straight game in District 16-5A DII by defeating Edcouch-Elsa 27-21. He has passed for 1,101 yards and 13 TDs in five games.
Gilbert Medina from Port Isabel HS rushed for 237 yards on 16 carries, including a kickoff return for 92 yards for a touchdown as they defeated Robstown 55-40 to in District 16-4A DII to improve to 4-0, 1-0. In four games, he has rushed for 712 yards on 45 carries.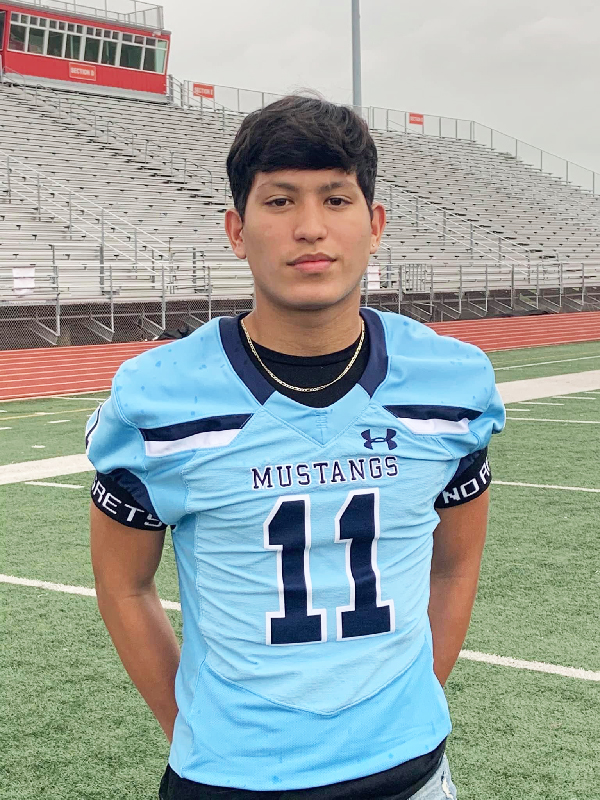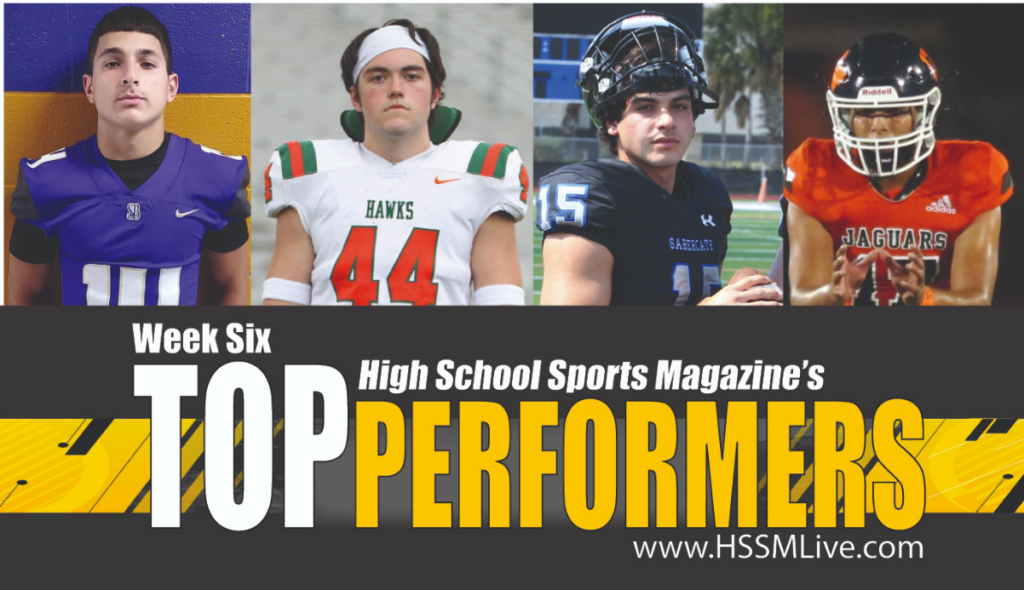 Week Seven
(Mercedes, Texas)-Sharyland High School Rattlers RB/FS Alan Gonzalez scored on a 70-yard touchdown run and also returned an 55-yard interception for a score to give the Rattlers a 28-21 win over Mercedes in District 16-5A DII. He finished the night with five carries for 100 yards. He is Week 7 High School Sports Magazine's Top Performer of the Week.
Other HSSM Top Performances for Week Seven are Donna North HS running back Louie Cavazos, only 5'4″ broke loose on a 72-yard touchdown run on Friday against Brownsville Hanna in District 32-6A. Despite the loss, Cavazos lost his sister Lyza, who was hit by a drunk driver last year while walking to the store with a friend. He honors her before every game at her by visiting her burial site.

DB Kolten Ottmer from McAllen HS had four solo tackles, ten total tackles, one fumble recovery, and returned 28-yard interception for a touchdown against Weslaco East in their 21-14 win. He also return pick-six interceptions against Brownsville Porter (42-28) and Brownsville Veterans (21-14). Against Veterans, he had 14 total tackles. He has five interceptions this season.

RB Isaiah Bell from Harlingen HS rushed for 169 yards on 17 carries and scored three touchdowns, one catch for nine yards as the Cardinals defeated Weslaco 52-17 in District 32-6A.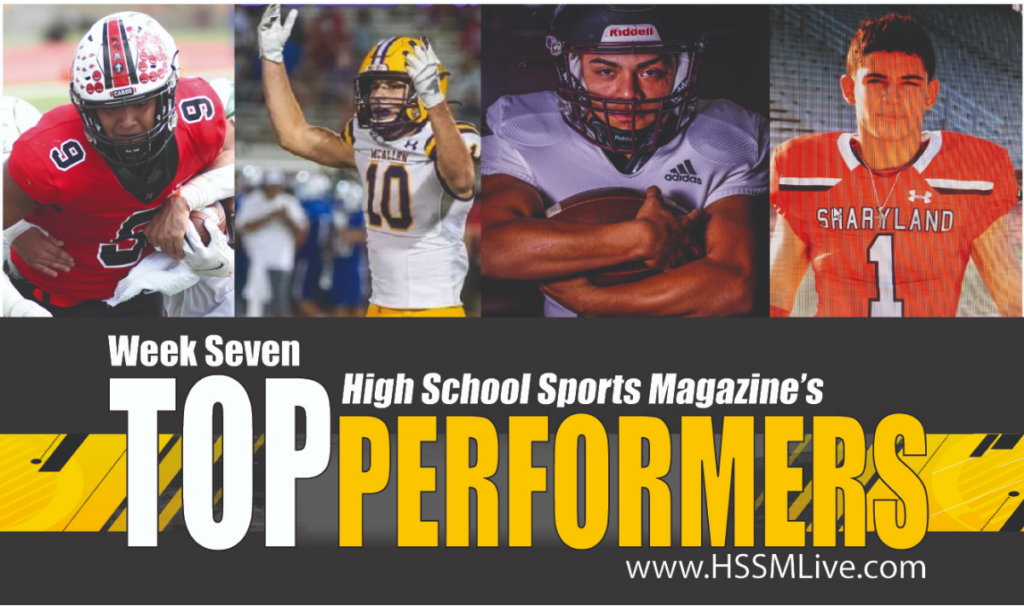 Week Eight
Edcouch-Elsa RB Josh Gomez rushed 16 times for 316 yards in their 63-0 win over PSJA Memorial. He leads the Rio Grande Valley with 1,217 yards on 112 carries averaging 10.9 yards a carry.